Clarence Jazz Festival
Clarence Jazz Festival 2022: Big Day at Kangaroo Bay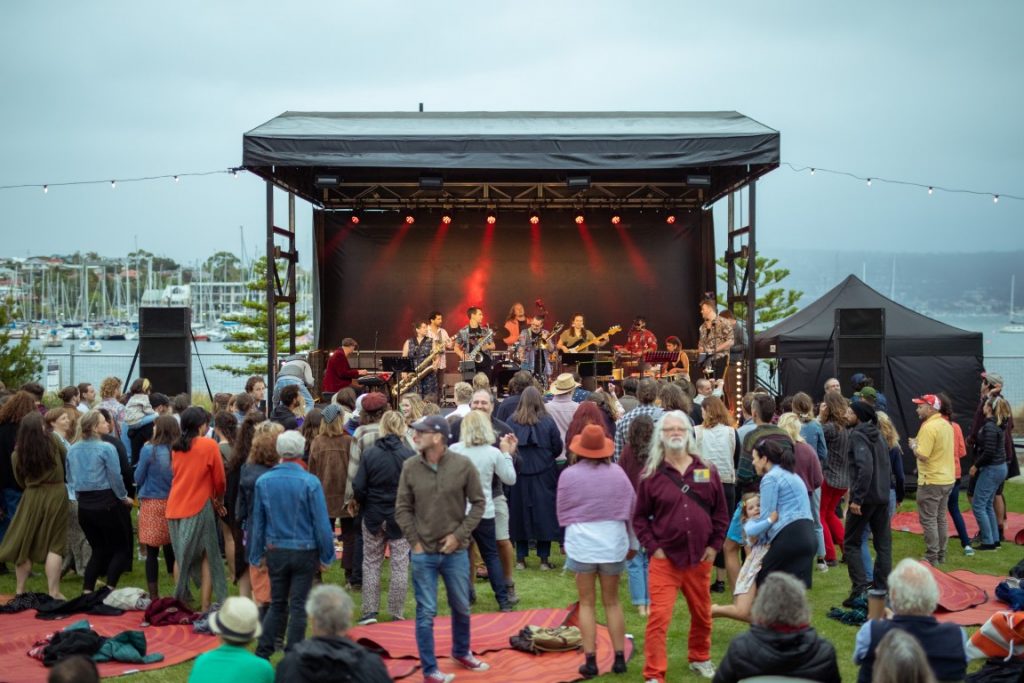 Bring the whole family along to Kangaroo Bay for the biggest day of the Clarence Jazz Festival 2022. The Big Day event will showcase an incredible selection jazz acts across two stages from lunchtime through 'til the stars. Families will be entertained in our crafty decoration making tent ready to join the musicians in the Big Parade.
Bream Creek Vineyard, Captain Bligh's and Lost Pippin will offer refreshing, locally made beverages for the event. Delicious local food and warm drinks available on site! Please note: this is a smoke free event.
Be sure to check out the Tasmanian Produce Market next door before hand, running 9am – 1pm.
kunanyi Stage
12.30pm          2022 Jazz Scholars Supergroup
1.15pm            Erin Sherlock Quintet – Former Jazz Scholar and up and coming superstar Erin Sherlock presents all original modern jazz. Part of the Emerging Artist Program
2.40pm            FFLORA – Fluid Femme Luminaries Offering Rhapsodic Ascension, fully improvised music spanning jazz and worlds beyond.
3.40pm            Sasha Gavlek Quartet – Hot original jazz, luscious melodies and high intensity rhythms.
4.50pm            Katy and the Tramps present: The Songs of Disney— The most memorable moments from the history of Disney animation!
5.55pm            Brekky Boy — Montreux Jazz Award nominee, piano-driven powerhouse 'jazznotjazz' trio hailing from the South Coast, NSW.
7pm                 Trey Trashes Winehouse – A queer reimagining of the music of jazz and pop icon Amy Winehouse, by the enby monarch of drag Trey L'Trash and an all-star nonet.
8.10pm            Son Del Sur — 11-piece high energy Latin-jazz and salsa band, exploring and celebrating incredible classics from across South America and beyond.
9.15pm            Michelle Nicolle Quartet — A stunning performance from this year's Jazz Ambassador and her quartet of jazz legends. A festival highlight retrospective of the quartet's astounding 24 year history.
Playground stage
12pm               Moonshine Collective – Sharing their love of jazz with a dynamic set of standards and originals. Part of the Emerging Artist Program
1.15pm            Joko – A new project featuring the twin fiddles of Charlie McCarthy and Emily Sheppard in the grand old tradition of 1930's Parisian swing.
2.20pm            The Black Swans of Trespass – Come on a banjo and fiddle rich journey from Mento to Aussie folk to New Orleans jazz and everywhere in between.
3.20pm            Pep Talk – A brand new project featuring gypsy jazz and sweet vocal harmonies.
4.25pm            Big Parade at Kangaroo Bay – Possibly lutruwita / Tasmania's largest massed gathering of jazz musicians! Join in the Big Parade which will be making way through Kangaroo Bay featuring an original composition from our Jazz Scholar Joshua Ford-King!
5.15pm            Danny Healy Swing 4 — Toe tapping and authentic tunes from the early days of jazz to the 1940s.
6.20pm            New Orleans Footwarmers – Traditional New Orleans folk music from some seriously talented cats.
No need to pre-book for this one, come along and buy a ticket on the door!
Children under 1o are Free
NO BYO DRINKS.
DESIGNATED SMOKE FREE EVENT.
FOOD & BAR AVAILABLE ON SITE