Concert
SUMMER SERIES: Yyan & Emily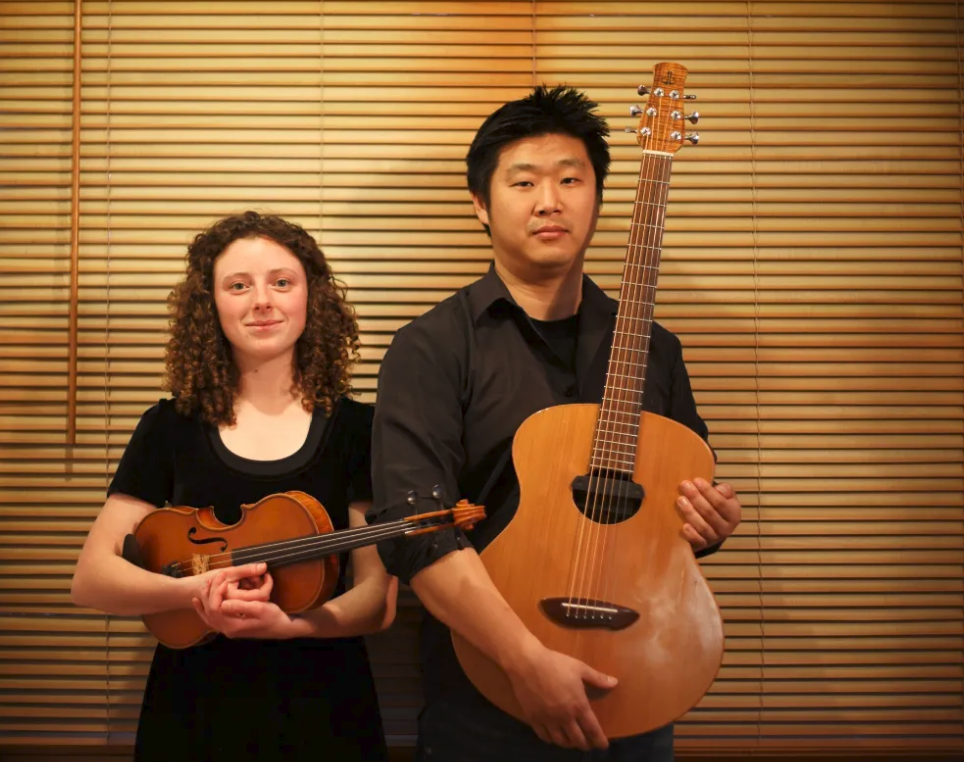 As part of Rosny Farm's Summer Series of events, Clarence City Council is pleased to be showcasing Yyan & Emily direct from Launceston with a special one off intimate performance alongside national act Coda Chroma from Melbourne in Rosny Barn.
Yyan Ng and Emily Sheppard write and play original contemporary folk tunes. Shimmering fiddle and acoustic guitar lines, prepared and alternatively tuned violins, violas and guitars, ephemeral vocals, and complex rhythms and harmonies. Emily and Yyan both push the boundaries of contemporary violin/viola and guitar playing and draw inspiration from place – personal, earthly & interstellar and are driven by an endless curiosity for sound, stories and the numinous.
Yyan Ng is a multi-instrumentalist, improviser, composer, collaborator. Yyan sings and plays acoustic guitar, wadaiko(taiko drums), Shakuhachi, and various stringed, percussion and woodwind instruments. He leads a few contemporary bands and the Launceston Taiko group Taiko Oni Jima, and has been involved in various projects as a guitarist and percussionists. He has played with and/or supported acts such as Emma Anglesey, Daniel Champagne, Shaun Kirk, Jeff Lang, Ben Salter, The East Pointers, Brian Ritchie, Anne Norman and performed all over Australia including Hastings Cave, Mt Wellington/Kunanyi observation shelter(Arts Tasmania), MONA FOMA, Dark MOFO, Woodford Folk Festival, Cygnet Folk Festival, Junction Arts Festival, Festivale, Marion Bay Falls Festival, Taste of Tasmania, Jackey's Marsh Forest Festival, Amplified Awards.
Emily Sheppard is a Tasmanian violinist, violist, improviser and composer. Trained in classical music at the Australian National Academy of Music in Melbourne (2012/13), she is now a member of the Tasmanian Symphony Orchestra and Van Diemen's Band. She also performs in various contemporary folk bands and improvisation ensembles. She's been part of performance and recording projects with Paul Kelly, Katie Noonan, DJ Spooky, Michael Kieran Harvey and the Australian Chamber Orchestra. Compositionally, she draws inspiration from diverse musical fields. Her music is informed by unconventional and resonant places spaces. She has performed in Hastings Cave, Marakoopa Cave and Mt Wellington/kunanyi observation shelter, supported by Arts Tasmania and Hobart City Council grants. She has played at festivals all over Australia, including Mona Foma, Dark Mofo, Ten Days on the Island, Darwin Festival, Brisbane Festival, Melbourne Festival, Canberra International Music Festival, Cygnet Folk Festival, Fractangular and A Festival Called Panama. Emily is also studying environmental science at the University of Tasmania, and her compositions and collaborations are increasingly inspired by her studies.
LINKS
https://www.facebook.com/YyanandEmily/
Book on Eventbrite