Festival
Clarence Jazz Festival 2021: Big Day at Kangaroo Bay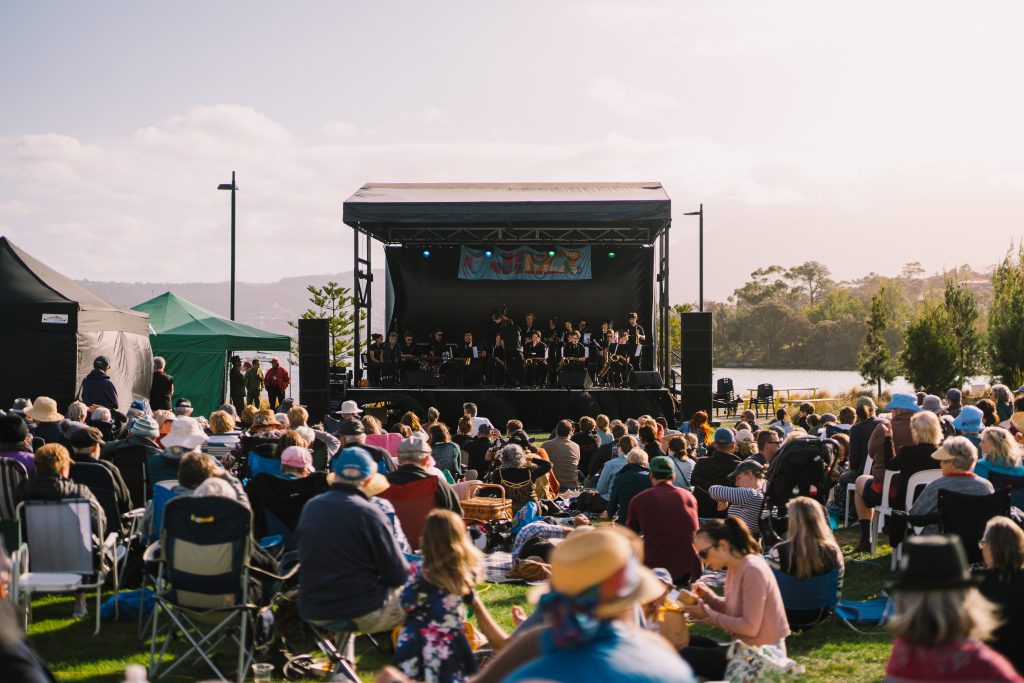 Bring the whole family along to Kangaroo Bay for the biggest day of the Clarence Jazz Festival 2021. The Big Day event will showcase an incredible selection of Tasmania's hottest jazz acts across two stages from lunchtime through 'til the stars.
kunanyi Stage line up:
12pm ~ Clarence Jazz Festival Scholars' Supergroup
1pm ~ Indigo – Voice, guitar and saxophone trio playing bluesy jazz
2pm ~ Black Swans of Trespass – Playing forbidden banjo music that's funky & soulful, with a swampy, punky edge
3.15pm ~ Sasha Gavlek Quartet – A mix of high intensity rhythmic ideas, alongside luscious melodies and soulful improvisation
4.30pm ~ Steven Brien – A mixture of standards from the great American songbook and some originals
5.45pm ~ Brendon Siemsen Quartet – Playing all new original material written during lockdown
7pm ~ Baba Bruja – nipaluna/Hobart's very own all original 12-piece afrobeat collective
8.30pm ~ Kelly Ottaway Keys Supergroup – The 2021 Festival ambassador has put together a group of Tasmania's best keys players
10pm ~ Zenny Teller – Curated by Sam Dowson, reviving Hip-Hop jazz classics from the 90s to 00s, utilising acoustic and programmed instrumentation

Playground stage line up:
12.30pm ~ Good Vibes Quartet – Unique sounds and instrumentation
1.30pm ~ Mangus & Co. – Growling vocals and guitar performance influenced by jazz, blues, fingerstyle and slide
2.45pm ~ Django's Tiger – Swinging gypsy jazz in the style of Django & Grappelli
4pm ~ The Mentolists – An experimental ska band exploring the uses of banjo
5.15pm ~ Saucy Jack & his Ripper Band – Playing original compositions inspired by roots jazz, blues and folk of the 1920s
6.30pm ~ Dr Pete's New Orleans Footwarmers – An energetic traditional New Orleans jazz and blues style band playing high octane jazz getting the audience to groove with the band
 No BYO food or drinks. Bream Creek Vineyard, Captain Bligh's and Lost Pippin will offer refreshing, locally made beverages for the event. Food and fresh produce will be provided by the Tasmanian Produce Market onsite.
You can bring rugs and picnic chairs.
Register your details through ticket registration before entering any of our events for contact tracing: