Event
CCC X Ten Days on the Island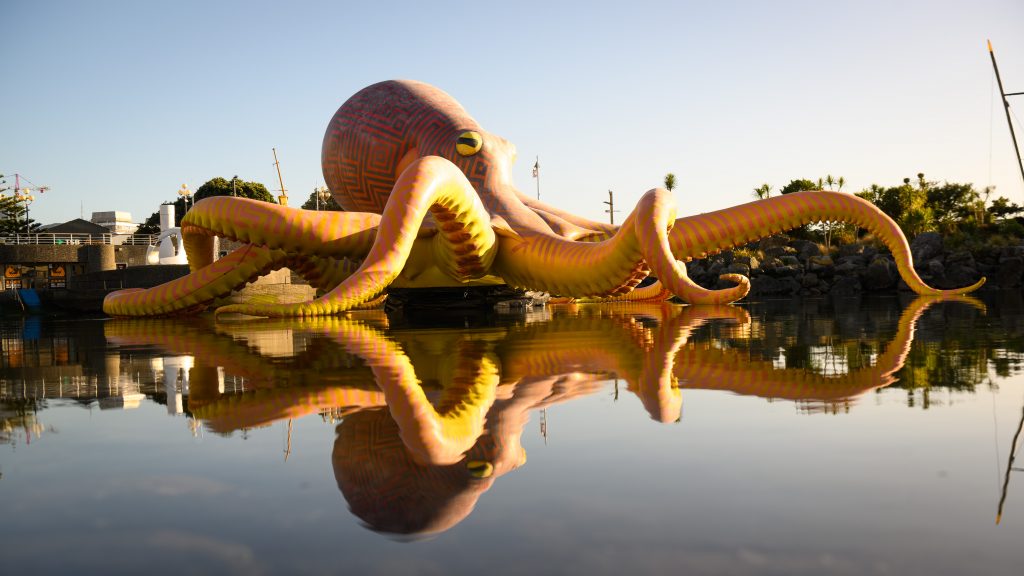 It's not every day that a giant octopus from Aotearoa New Zealand takes up residence in the waters of Kangaroo Bay!
Clarence City Council, in partnership with Ten Days on the Island, is thrilled to present Te Wheke-a-Muturangi – The Adversary, by Lisa Reihana – an awe-inpiring and fantastical installation of epic proportions.
This partnership is part of council's commitment to build formal relationships with major festivals to increase council's ability to present high quality projects to the Clarence and broader community, as well as to bring attention to the city for its wide-ranging cultural programs.
This partnership not only supports an important Tasmanian festival, it also brings the cultural and economic benefits of this festival to the Clarence community.
In Māori mythology, Te Wheke-a-Muturangi is the giant octopus chased by Kupe, the legendary Polynesian navigator who discovered Aotearoa New Zealand. During their epic chase, Kupe dealt many fatal blows to Te Wheke, eventually killing her. A red sunset reflecting on the sea is widely considered to be the blood let during their legendary battle.
Centuries later, the giant octopus in that story will travel across the Tasman Sea to share her tale for the very first time in Australia.
Te Wheke-a-Muturangi is the creation of the multi-disciplinary Māori artist Lisa Reihana, whose renowned video work In Pursuit of Venus [infected] garnered worldwide acclaim for Aotearoa New Zealand at the 2017 Venice Biennale.
Throughout the Ten Days Festival, the giant and colourful Te Wheke-a-Muturangi will sit amongst the boats against the iconic backdrop kunanyi/Mount Wellington in the waters of our very own Kangaroo Bay.
For more details of how we can welcome this majestic creature to our shores, make sure that you're following Clarence Arts and Events on Facebook and Instagram, or head to www.tendays.org.au